October is Domestic Violence Awareness Month and many of our member agencies are hosting numerous events throughout the month.  See below for the events.
Flandreau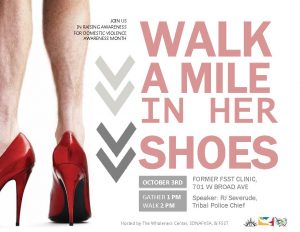 Mitchell Area Safehouse
October 1st Unity Day
Join us and the Corn Palace to raise awareness and show support of victims of Domestic Violence in our community by turning your porch lights purple.
October 2nd – 31st Purple Purse Challenge
Purple Purse Challenge unites nonprofits in a competition to raise funds for life-changing services to help domestic violence survivors.    By participating you will help rebuild the life of a domestic violence victim.
October 7th– Harvest Fest (Trinity Lutheran Church)
For $12.00 enjoy a fall harvest meal along with a farmers market, bake sale, raffles, and kids activities.  Proceeds benefit the Mitchell Area Safehouse.
October 11th– Health Cares About DV
We work with Futures Without Violence to reach out to the health care community about the critical need for screening for domestic violence as well as thanking them for their service.
October 14th – Theatre Night Out
Mitchell ACT Theatre will be hosting a donation drive to help give back to families of domestic violence.
October 14th – 20th National Call To Action Week- 
A week long national campaign to bring awareness to domestic violence.  Events include Selfless Sunday, My Voice Monday, Twitter Chat Tuesday, Woke Wednesday, Purple Thursday, Fame Friday, and Tech Safety Saturday.
October 17th – Women Empowering Women
Tailored To You will be hosting a Women Empowering Women event to support our effort against Domestic Violence.
October 18th– Wear Purple Day
Wear purple and get other involved.  Take pictures and send to our Facebook page.
Rapid City
DATE CHANGE DUE TO WEATHER: October 15th  2nd Annual Community Candlelight Vigil at Main Street Square from 6:30-7:30pm hosted by Working Against Violence, Inc. (WAVI)–This is a free event
Every Friday in October, WAVI is encouraging everyone to wear purple to show your support for victims and survivors and help spread awareness.
Sioux Falls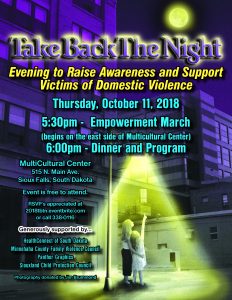 Yankton–River City Domestic Violence Center
In honor of Domestic Violence Awareness Month, members of our SART team will be tabling at Hy-Vee (North Entrance) to provide community education about Domestic Violence and a FREE cookie!
As part of Domestic Violence Awareness Month, we are honoring the 81 brave survivors in our community who had the courage to contact local Law Enforcement in the midst of or after an act of domestic violence.
Join us at the North Entrance of Yankton Hy-Vee!
October 3rd 11am -1pm
October 10th- 11am -1pm
October 17th- 11am -1pm