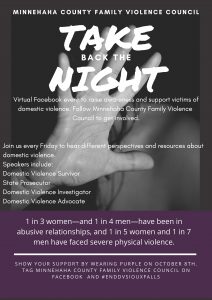 ---
Working Against Violence, Inc. (WAVI)–Rapid City
Oct 11-17 Walk a Mile In Her Shoes
There is an old saying: "You can't really understand another person's experience until you've walked a mile in their shoes. "The Walk a Mile in HER Shoes® WAVI Virtual Edition event is a pledge based, fundraising and public awareness campaign. The event features men (women & children too!) who raise pledges, join together and literally walk one mile in women's high-heeled shoes. In response to the impact of the COVID-19 Pandemic, WAVI has chosen to adapt to the situation and will continue with a VIRTUAL event. This means you will be able to complete your mile anywhere! Choose any day between October 11-17, get your walk in, and then challenge 5 friends to take a walk too! For more information visit https://www.wavi.org/about-wavi/events/
Oct 14 Annual Candlelight Vigil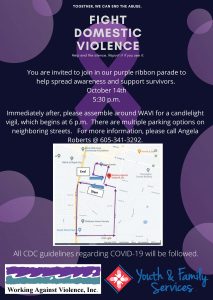 Oct 20 First Responders Appreciation Day
Every October WAVI staff thank first responders by baking treats and delivering them throughout the area. WAVI staff will also be setup at the Public Safety building (second floor) from 9am-2pm. Stop by and grab some treats to go!
Every Friday in October
We encourage everyone to wear purple to show your support for victims and survivors and help spread awareness. Share your photos with us on social media or via email at kristinas@wavi.org
---
Family Crisis Center–Redfield
Candlelight Walk
October 22, 2020
During the walk, a banner will be carried from the Library to the Family Crisis Center stating the following:  
                                    October is 
               Domestic Violence Awareness Month
                                  Take Time to
                         Remember the Victims
                          Who Lost Their Lives
                                        and
                          Honor the Survivors
       Help Those Experiencing Abuse to Speak Up   
         Everyone Has the Right NOT To Be Abused
Participants will be carrying battery operated lighted candles.  At the end, hot apple cider will be served.
---
I CARE–Vermillion
At USD we will be focusing on healthy relationships. Be on the lookout for signage around campus. Tentative additional events are listed below.
Love Simon showing in the MUC Ballroom on Friday Evening, October 23rd, a collaboration with SPECTRUM and WMST for LGBTQ+ History Month as well as Healthy Relationship Month. THANK YOU to Dr. Lampert for inviting I CARE to take part in this awesome event!  
Because I Love You presentation and discussion in the MUC Ballroom at 7:00 pm on Tuesday, October 27th.

Using the "Because I Love You" videos from One Love's #ThatsNotLove campaign, students will understand the difference between healthy and unhealthy relationships, and the role that technology and scapegoats, like alcohol, can play in these relationships.
---