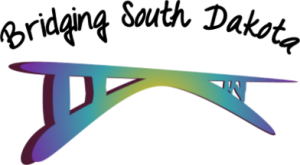 Bridging South Dakota is a partnership between The South Dakota Network Against Family Violence & Sexual Assault, South Dakota Coalition of Citizens with Disabilities, and Communication Service for the Deaf.
MISSION: Bridging South Dakota seeks to improve services for victims and survivors with disabilities or who are d/Deaf by cultivating the capacity of our statewide organizations to provide trauma-informed, safe and accessible interventions through technical assistance, training and curricula.  
VISION:  We envision that survivors of domestic violence, sexual assault and stalking, who have disabilities or who are d/Deaf, will receive knowledgeable, culturally sensitive and effective services from providers and advocates throughout the state of South Dakota.