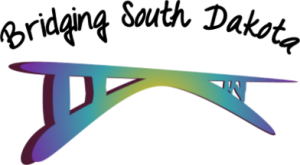 Bridging South Dakota is a partnership between the South Dakota Network Against Family Violence & Sexual Assault, Communication Service for the Deaf, Disability Rights South Dakota, and the Compass Center.
MISSION: Bridging South Dakota seeks to improve services for victims and survivors with disabilities or who are d/Deaf by cultivating the capacity of our statewide organizations to provide trauma-informed, safe and accessible interventions through technical assistance, training and curricula.  
VISION:  We envision that survivors of domestic violence, sexual assault and stalking, who have disabilities or who are d/Deaf, will receive knowledgeable, culturally sensitive and effective services from providers and advocates throughout the state of South Dakota.
Liaison Services are Available for
Sexual Assault Victims /Survivors With Disabilities in South Dakota
TYPES OF SERVICES PROVIDED
Case management
Civil legal advocacy (protection orders, accompanying to court hearings)
Civil legal assistance (provided by attorney or paralegal)
Criminal justice advocacy/ court accompanying
Crisis intervention
Employment assistance Uob training, coaching, supported or sheltered employment)
Forensic exam assistance (provided by nurse or forensic examiner)
Hospital/clinic accompanying
Language services (interpreters and translators)
Long term Care (assist with connecting to services for daily needs)
Peer Support connections
Personal Planning (assist victim/ survivor with goal-setting and develop plans to accomplish)
Respite (connect to short term care to victim/survivor to relieve primary caregiver[s])
Transportation acquisition (assist victim/survivor with securing means of transportation)
Victim/ Survivor advocacy (actions designed to assist victim/survivor in obtaining support, resources or services, including housing, employment shelter services, health care, victim's compensation, etc.)
Who to Contact For Services
C.J. Moit
Disability Rights South Dakota
2520 E. Franklin Ave. Suite 2
Pierre, SD 57501
Tel: 605 224 8294
Email: Cindy.Moit@drsdlaw.org
Lance Sigdestad
Communication Service for the Deaf
1707 4th Ave.SE Suite C
Aberdeen SD 57401
Tel: 605 370 6593


Email: 

lsigdestad@csd.org
Katie Peterson, NIC, CT
Communication Service for the Deaf
2310 N Maple Ave
Rapid City, SD 57701
Tel: 605 223 1345
Email: kpeterson@csd.org
Rashel Olesen
The Compass Center
1704 S. Cleveland Ave. Suite 3
Sioux Falls, SD 57103
Tel: 605 339 0116
Email: rashel@thecompasscenter.org
After work hours and weekends: 1 800 670 3989

Additional Resources
This project was supported by Grant No. 2018-FW-AX-K009 awarded by the Office on Violence Against Women, U.S. Department of Justice. The opinions, findings, conclusions and recommendations expressed in this publication/ program/exhibition are those of the author(s) and do not necessarily reflect the views of the Department of Justice, Office on Violence Against Women.