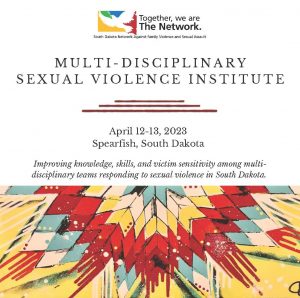 The South Dakota Network Against Family Violence and Sexual Assault is excited to announce that registration for the 2023 Sexual Violence Institute is NOW OPEN! Please click here for the tentative agenda.
Please register at https://sdnafvsa.coalitionmanager.org/eventmanager/trainingevent/details/63 by March 30th. There is NO registration cost to attend. All travel costs are on your own, however there are very limited scholarships available to assist with travel costs. Please contact Kathy at kathy@sdnafvsa.com or call 605-731-0041 for more information.
A block of rooms have been reserved at the Spearfish Holiday Inn and will be held until March 11th. Please call the hotel at 605-642-4683 and mention the SD Network to reserve a room.
Please note that snacks and lunch will be provided each day thanks to the generous sponsorship of Native Hope.