Job Opening at Children's Home Society – Education Public Awareness Specialist-SF
---
South Dakota Department of Public Safety Victims' Services is taking applications for a summer internship
Session: Summer (May – August)
Position Title: Intern – Victim Services Program
Supervisor: Cora Olson
Agency: Department of Public Safety
Location: Pierre
*A RESUME MUST BE ATTACHED WITH EACH APPLICATION. APPLICATIONS SUBMITTED WITHOUT A RESUME ARE INCOMPLETE AND WILL NOT BE PROCESSED.
*APPLICANT MUST BE A FULL-TIME STUDENT (MINIMUM OF 12 CREDIT HOURS) IN THE SEMESTER IN WHICH YOU APPLY.
Position Description: The focus of duties for this internship will be to assist the staff of The Office of Victims Services' assist grant program specialists in gathering statewide resources for victims' services provider's ongoing needs assessment projects. Plan, write, edit, and disperse informational and educational materials to provide accurate, timely, and useful information about department services and activities to be utilized by law enforcement, shelters, human trafficking centers, prosecutors' offices, child maltreatment centers, tribal victim services and coalitions.
Qualifications: Applicant must be a full-time student at a college or university. Preference will be given to those with junior standing or above by the end of the Spring 2020 semester, or who are currently enrolled at a technical institute and have completed one year (nine months) by the start of the internship. Preference will be given to South Dakota residents and students of South Dakota institutions. This internship will be best suited for students who seek to gain experience in fields related to the studies of Criminal Justice, Social Sciences/Sociology, Victimology, Psychology.
Minimum Salary: $10.80
Apply at: https://scssdltmprod.agilera.net/ltm/xmlhttp/shorturl.do?key=56N
South Dakota Bureau of Human Resources
500 East Capitol
Pierre, SD 57501-5070
Telephone: 605.773.3148 Fax: 605.773.4344
---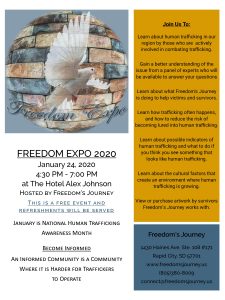 ---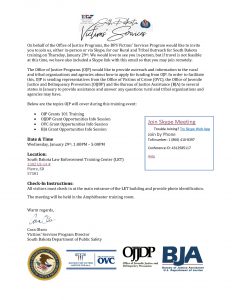 ---
SAVE THE DATE for the Homeless Summit that will be held June 16th & 17th in Oacoma! More information will be coming soon!
---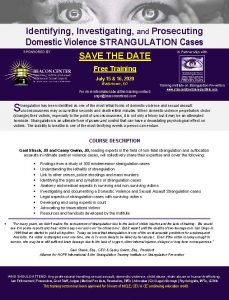 ---